Wondering how to run your first or may be second or may be tenth but successful email marketing campaign?
We know setting up "successful" email campaigns can actually be a pain in the neck and we totally get you.
You might sometimes even feel that "email marketing is dead " when your campaigns don't work. That's fair enough when there are so many similar cliches around in the air.
But if you look at the numbers and case studies, you may realize that email marketing still works and works wonders!!
So, don't ditch that email campaign in draft yet because we're gonna show the exact step-by-step process to run successful email campaigns which will drive results for you.
Now, let's dive in to the real thing and show you how exactly you're gonna set up the campaign;
Before that if you're someone new diving into the world of running email marketing campaigns, let us first tell what exactly an email marketing campaign is.
What is an email marketing campaign?
In simple terms, Email Marketing Campaign is a marketing effort in which business sends a series of strategically planned emails to its present or potential customers.
We'll start with the exact process now.
Define your goals
Well, this is where many email marketers miss out. Not just email marketing but any good marketing, starts with setting up goals.
Now, when we're talking about these goals, they should be defined in such a way that they're attainable, measurable and trackable. That's why Linsay Kolowich from Hubspot says, "It doesn't matter how optimized your emails are if you can't see the results of your efforts — not to mention measure whether email is helping you hit your goals."
And to achieve this, you need to determine if your email campaign goals are S.M.A.R.T or not.
The S.M.A.R.T framework is widely used in various domains for guiding better goal setting.
S.M.A.R.T is an acronym which stands for specific, measurable, achievable, realistic and timely. It means the goals you set, should be:
be described in detail
have a KPI or a metric assigned
be within your reach
matter for your overall business strategy
be placed within an adequate time frame
Common email campaign goals could be anything such as:
Promoting a new product
Nurturing the leads
Recovering an abandoned cart event
Staying connected with your audience
S.M.A.R.T email goals could be anything such as:
Increase email open rates by 20%
Increase email engagement rates by 30%
Decrease email bounce rates by 10%
Increase email clickthrough rates by 15%
Look for the suitable audience for this campaign
"Everyone is not your customer" – Seth Godin
Well, everyone ain't your email reader.
Yes, you got it right. What we mean by the above quote is you can't just build a campaign and send it to all the email addresses you have in your SalesForce account. You just can't do that!!
You gotta find the right audience for it. The best way to do this is by building your own targeted email list.
We believe at this point of time, when you're looking to run email campaigns, you already have an email list of yours. If not, please don't take lethal shortcuts like buying email databases. They do no good but can only harm your entire marketing efforts.
Why? Well, it's against the GDPR and various other related laws of different nations.
Secondly, they will never be your targeted audience and may never buy from you.
Thirdly, email platforms like Aweber no longer allow you to upload purchased lists in their system.
Coming to finding the suitable audience in your email list…
You can do this by segmenting your email list according to the audience type you can to send the emails.
Segmenting the audience is discussed in the next step.
Tag your audience segment
Many marketers don't pay heed to segment even their most nurtured email list which can later lead them to the point of unsubscribing. It's important to segment all your email audience based on different parameters.

Different email platforms provide you with the option of segmenting your audience. While you can segment your audience in various ways, one of the easiest ways is by "tagging" your audience segment".
Tagging can help you send personalized content to a segmented audience which helps you deliver the right message to the right people at the right time. Sending the right messages to the right people can actually help you boost your number goals so much so that marketers have found 760% increase in revenue with use of segmented email campaigns.
You can create a single, multiple or variety of tags for your email list using different parameters. Some of the common parameters for tagging are location, demographics, gender, email engagement, past purchases, amount spent on past purchases, website behaviour and a lot more depending upon your email goals.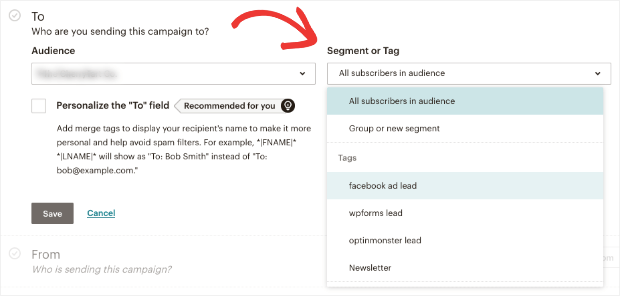 This is how you can segment your email audience in Mailchimp by adding tags. These tags are visible only to you and your team members and can be used according to your requirements.
4. Time to build your buyer's persona
Now that you have set your goals and have your email list ready with the right segmentation, it's time to put yourself into the shoes of your buyers.
If you are aware of your buyers persona, you're well-informed of why, what and how of your buyers.
This might sound simple but can be immensely effective in crafting great email campaigns. Once you are thorough with your buyer's persona, you can strategically design your entire email campaign depending upon what stage of the buyer's journey they are at the moment.
Following are the four steps to creating buyer's persona for email marketing according to campaign monitor:
Analyse your target market and related demographics
Find out how people find you
Study why and how people use your product/services
Take note of their feedback, even though negative.
This will help you to know who exactly your buyers are so that you can eliminate the unsuitable ones. You'll also get to know the channels which bring in your customers so that you can nail them. Not only that, you know exactly how your product is useful which helps you to add more value or create targeted offers. Lastly, you get feedback which will help you keep improving.
5. Decide a timeline for your campaign
You have built the buyer's persona, now you also need to determine where they are in the buyer's journey or buyer's cycle right now.
Why?
Because the buyer's cycle is crucial in determining the length of the campaign. Depending upon which stage your buyer is in, you may want to send a different content to them. This can shorten or lengthen the timeline of your campaign.
This is a typical buyer's journey and the mindset of the buyer may be different at each stage.
6. Pick a template based on your goal and audience
The most popular email marketing platforms in the market provide you with the option of using predesigned templates for your email campaign. Depending upon your email campaign type and goals, you can choose from different types of templates. Most of them are mobile-responsive and look good on mobile devices.
MailChimp, the most popular email marketing platform out there has over hundreds of templates to choose from. They also give you the option to custom code and design your own template, if you don't want to go with the default options.
Similarly, other platforms like Zoho Campaigns, SendGrid, Emailoctopus and others offer lots of email templates to choose from. All of them have their own template types.
7. Design/Customise your campaign
Once you have chosen the template as offered by the email marketing platform you're using, you can start adding all the data into that template and you're all set.
However, you can still choose to customise the template by changing various elements like color, background, etc and if you've a real knack for customisation, you can even custom code your template from scratch.
8. Create magnetic subject lines.
Subject lines!! Well, we can't stress enough about them.
And the image below from MailerLite speaks for itself.
The success of your email campaign can greatly depend upon your email subject line.
Now again, if you're just starting out and don't know what an email subject line is, let me brief you.
It's nothing but the single line of text people see when they receive your email before actually opening it.
That's why, if you have well-written subject lines, chances are that it won't go unopened or unread when inboxes are inundated with hundreds of emails every day.
Not only do they help to increase the open rates of your emails, but if wisely crafted they can have a powerful impact on your readers.
In fact research suggests that about 47% of email recipients decide to open emails on the basis of subject lines. Another study shows that about 69% of them report them as spam solely on the basis of subject lines.
So, you can see the power of subject lines. Infact, if the subject line is personalized, the results can be marvelous such as using first name of the recipient in the subject line can help achieve even higher click through rates than those that don't have the first name included.
That's the reason why 34% of marketers choose to personalize emails in the US and UK and the subject line is the first step towards this personalization.
9. Use preview text smartly
After subject lines, preview text is another smart way to increase the chances of success of your email campaign.
Preview text also called Johnson Box is the line of text that is visible in your inbox after the subject line and provides a short summary of your entire email message.
This is what a preview text looks like:
Now, this again can be a very powerful tool for higher success with your email campaigns.
That's because your subject line and preview text are the only guaranteed piece of content that your email recipients will see without actually opening the email.
So, they are important markers for your email recipients as they can help them decide to open or not.
In fact, according to SendPulse statistics based on 20 million sent mails, preheaders can increase email open rates by 7%.
However, some other research shows that not many email marketers are using this powerful tool. MailerLite, an email marketing platform, found in their research that 90% of emails sent from their platform don't have an email preheader.
Litmus, another email platform, had a similar finding from their Linkedin Poll. They found that from 2018 to 2021, about 65% to 35% of their respondents don't know about email preview text respectively.
It's time to adopt this powerful hack and simultaneously master the art of crafting beautiful preview texts plus subject lines.
You already know the stats, plus not many are using it, so chances to stand out and succeed will be higher.
10. Test and launch your campaign.
You have followed all the tips above and you're ready with your email campaign as per your calendar.
Wait before you shoot it out !!
You gotta test it out first.
You may be wondering what's the big deal with mail testing and why not send it across directly.
A common issue faced by marketers is misalignment of email when rendered in the mobile version as components are stacked in mobile view. There can also be issues like broken email design, incorrect links, etc.
That's why testing should be in the life of any email marketer.
And how on earth, do you do that?
Well, most of the email platforms out there have automated the process for you. You just need to do a few clicks on the test options provided by your email platform provider and TADA, you can successfully test your campaign.
Don't worry it doesn't land into any of your audiences inbox yet.
Different providers call it by different names but they all are pretty understandable and the steps are quite easy.
For example, MailChimp calls it as preview and test.
Whereas Campaign Monitor calls it design and spam test. Names may be different but the job is pretty much same.
Now, if everything looks fine on all devices, it's time to launch the campaign.
11. Launch but keep tracking your campaign
You've launched the campaign, thinking about chilling a bit? Well, you've got more on your bucket.
It's time to keep track of what's going with your campaigns.
At the basic level, you'll have to keep track of the open rate and click through rate of the email. You would also have to keep track of the unsubscribes and forwards. These numbers will give you a fair idea about how your campaign is working.
Accordingly, you'll have to come up with email plans and follow ups to fix what's not working. For example, you may have to create a more compelling offer for those who opened the email but didn't click through or a more tempting headline for those who didn't even open the mail.
Bonus: Some more key points to consider for your campaign.
12. Always add clear calls to action
You might have written the copy very well but if it lacks a clear call to action, you may lose your entire email marketing game.
Call to actions are the ultimate point in your email masterpiece and if they are coherent with your email copy, they'll help you achieve your goals. Badly written and you lose the entire game.
In fact, Mailer Lite theorizes that they are like a climatic point in your email story where the readers decide how the rest of the story plays up. Just like other stories, the climax doesn't work well, if the story isn't interesting enough.
That's why, always try to craft clear, actionable and value-adding call to action buttons. These buttons are not just brightly colored and stuffed with generic call to actions like buy now, shop now, etc.
Rather, they should tempt the user towards the action which you want your reader to take.
Some tips to write better Email CTAs:
Write clear actionable lines for your CTA
Talk directly to your readers
Create a sense of urgency
Make the button interactive, large and brightly coloured
Keep the message short and straight.
Now, one very important tip here is use of a single CTA button. Many marketers often use more than one CTAs which sometimes confuses the reader about what action you're expecting them to take. Instead, use just one CTA with a clear, actionable and direct message.
In fact, mails with a Single Call-to-Action Increased Clicks 371% and Sales 1617% – Ellie Mirman, VP of Marketing at Toast.
13. Personalize, Personalize, Personalize!!
We can't stress enough on personalization. Personalization can work like a charm when it comes to email marketing especially when inboxes are cluttered with an average person
receiving about 121 emails
per day.
Now, you can understand why we're stressing so much on personalization. There's no other best way to stand out from this cut-throat competition.
By personalization, we're not just talking about using names in the emails but everything from name to subject lines to the body (including visuals) and even the offer can be personalized.
In fact, a study by Oberlo suggests that personalized subject lines can increase open rates by 50%.
Similarly, Adidas personalized the product offer in their email campaigns for their Originals series
14. Never forget to offer a way to opt-out
Well, if people don't want to read your mails, there's no point in keeping them mailed. This will not only mess up your open rates but worse, you'll end up having more people marking your emails as spam ( of course, you don't want that to happen).
The worst, you can get knocked off by law as the GDPR law has been tightened almost everywhere worldwide. The CAN-SPAM guidelines strictly require you to provide an option to your email recipients for unsubscribing.
This option is typically at the end of the mail in the footer section.